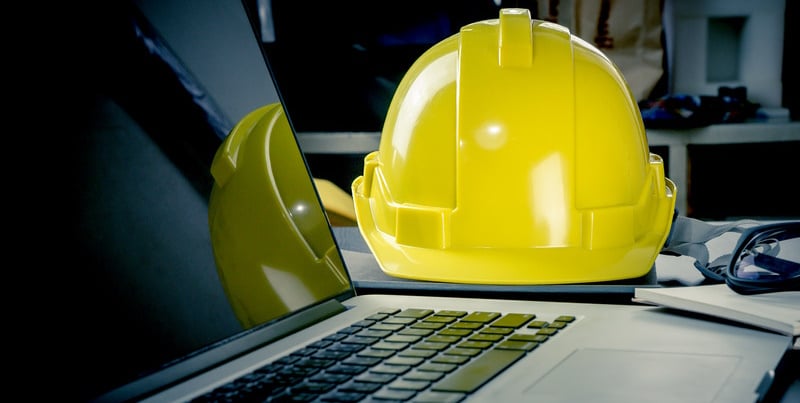 Field service organisations ranging from HVAC to Medical and from Environmental to Facilities Management, provide specialised services to customers onsite, from installation and maintenance to repair and troubleshooting. There are many moving parts when it comes to managing, organising, scheduling, communicating and record keeping. While technicians go about carrying out their day-to-day jobs, it's critical that jobs are carried out in full compliance. There's no room for error as the consequences could be catastrophic.
Due to the nature of field service operations, it can be a struggle to keep all the balls in the air from operations and systems to finance, inventory, customer experience through to compliance. Managing all of these elements using docket books, sticky notes, whiteboards and spreadsheets is tricky at best, not to mention extremely risky, particularly when it comes to safety and compliance. It's surprising to observe the extent at which ad-hoc systems and processes are being used by companies operating in this environment. Centralising data and automating processes to ensure that best practice is not only observed but is followed by every single employee or contractor is a must-have in today's highly regulated environment. Purpose-built field service software can not only improve efficiency but also save organisations money across several business critical areas.
Completely unified solutions like NextService for NetSuite are incredibly popular, their ability to cut costs and increase revenue means they have an impressive ROI for organisations of all sizes. In addition to improving things such as inventory management and customer experience, field service management software can even help to improve workplace safety and compliance. This is easy to overlook and it's not often associated with field service systems, but staying fully compliant and reducing injuries can save organisations a considerable amount of money.
Below we have explored how you can not just enhance operational efficiencies with field service management solutions, but save money by remaining consistently compliant and safe.
Prevent Injuries With a Field Service Management System
Field technicians are often tasked with going into unknown environments to address unpredictable problems, and this can be a health and safety nightmare. There is a high level of risk associated with working in the field and it can be difficult to fully prepare for all eventualities. Two very common workplace safety challenges field service organisations face are; having to anticipate hazards at job sites and trying to prevent accidents with limited control.
There are several ways NextService can help organisations better prepare their field staff to keep them safe whilst working. This powerful mobile field service solution provides field teams with all of the job information they need at their fingertips, removing some of the risks associated with the unknown. With several ways of collecting data, including using custom forms and questionnaires, field technicians won't be going into work environments blind.
When data is captured and accumulated for health and safety purposes, field staff will have a better understanding of the environment they're entering into and how they can work safely on the job site. They will know what they need to prepare for and bring with them to keep themselves safe, significantly reducing the likelihood of accidents and injuries. Field service management solutions can even be used to create checklists of safety measures that field technicians must follow, ensuring nothing important is being overlooked.
Eliminating the unknown with NextService can reduce costs associated with workplace accidents and injuries. Keeping your team safe, wherever they may be working, can save your organisation a considerable amount of money in the long run. Not to mention, impressive safety records can help you to attract top talent and improve the customer experience, both of which can have a positive impact on your bottom line.
Prevent Violations With a Field Service Management System
Staying compliant has never been easier when you implement NextService into your operations. One of the biggest benefits of field service management software is that it eliminates paper-and spreadsheet-based processes. Using digital checklists and forms makes it easier for field technicians to prove that they have followed all rules and regulations as they carry out their jobs. Having a clear audit trail can help your organisation to avoid compliance violations.
Although there are costs associated with keeping your organisation compliant, the costs associated with compliance infractions are much higher. Not only could your organisation be issued with fines if you're not fully compliant, but the reputational damage caused by compliance problems can be significant. By supporting compliance, field service management solutions will pay for themselves over time and, in turn, help to increase profitability.
Finding the Best Field Service Management Software
Having a unified field service management solution ensures that data flows from the technician on a job all the way back to the finance department bringing many operational benefits, not least improving safety and compliance. This paired with the other cost-saving benefits of NextService can enable you to take your organisation to the next level. The return on investment of a field service management system makes the up-front cost of implementing it worthwhile.
If you're interested in field service management software and you'd like to find out more about how it can impact your operations, don't hesitate to contact us at OSSM. As a leading NetSuite Solution Provider and NextService Channel Partner, we have the skills and expertise to help guide you towards the best solution for your business. The right software can bring a new level of intelligence to what you do with field service metrics at your fingertips. We can help to streamline your workflows and digitize your field service business with NextService, software built on, and for, NetSuite.
Find Out More at the National Construction Summit 2023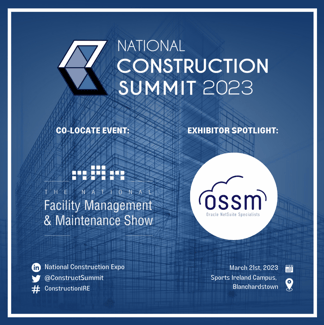 We'll be participating in this years Facility Management and Maintenance Show on Tuesday 21st March at Sport Ireland Campus, Blanchardstown.
We'll be showcasing NextService, the seamless field service solution for NetSuite.
Why not book a no-obligation appointment to chat to us on our stand (C21)?
And if you're heading to the National Construction Summit on March 21st, Andrew Sleath, our blog author and expert in field service management will be taking part in a number of discussions on the topic of health & safety at 10:20 and 11:40. We hope to see you there.
---
Guest Blog Author: Andrew Sleath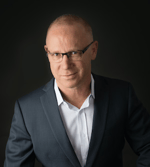 Andrew is committed to helping field service enterprises find the best software solution. With over 20 years' experience in software development and field service, Andrew knows that field service teams have to love to work with an app that helps them work smarter. Technology should drive efficiencies across the entire organisation, while helping to stay on top of compliance.