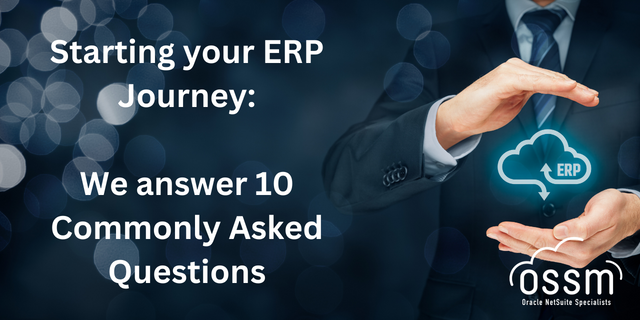 There are so many advantages to investing in an ERP system and it's something that the vast majority of businesses will decide to do at some stage. ERP solutions can manage your business and operational requirements in a smart and efficient way, and they are highly flexible, powerful and insightful. Cloud-based ERP systems are often the first choice for many businesses looking to improve efficiencies and reach their full potential.
Before deciding to go ahead and invest in a new business solution, many organisations have the same concerns and ask us the same questions. So, to help any businesses interested in starting an ERP journey, below we have answered some of the questions we're most frequently asked.
1. We're not a huge business, are ERP systems too big for us?
Lots of small businesses worry about implementing an ERP system, but it's key to remember that ERP systems can scale up and down in line with your needs. When you're choosing software for your business, you shouldn't just think about the current size of your business either, you need to think about your growth plans and ambitions too.
The real question businesses should be asking themselves is; 'will we be able to scale up with the systems we have today?'. Think about things such as resource availability and how many processes are being carried out manually, and consider whether your current software will be able to meet your future needs.
It's worth noting that systems such as NetSuite ERP can give your small business a competitive advantage. Being small and staying small but being able to run your business efficiently without the heavy reliance on individuals, which can often be the case in owner-managed businesses, is undeniably advantageous.
2.
How do you know when it's time to change systems?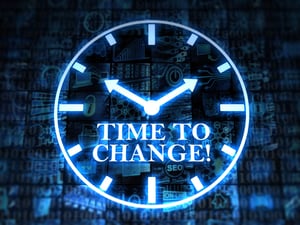 Simply put, if your internal systems and processes can be improved, then it may be time to consider the move to an single platform system such as a NetSuite solution. If the delivery of your products/services is being impacted by a lack of automation, inconsistencies and errors or your team is spending too much time on manual and spreadsheet-based tasks, investing in a cloud ERP system will be very beneficial. If you can't see your business performance in real time without spending time compiling data from various sources, this is another sign that you should change systems.
Sometimes the answer to this question is really obvious and sometimes until you take stock of what you're doing, you won't realise just how much you need a new system. You may even wonder how you've managed this far with the systems in place.
3. How long does a typical ERP project take?
This is a tough question to answer as all ERP projects are different. Here at OSSM, our clients range from organisations with a few users and basic requirements to clients with larger more complex projects. The simpler projects can be implemented in a short number of weeks, while the larger projects may take months or even years to fully complete.
Best practice would suggest that having the right team in place and the preparatory work completed prior to beginning the project will ensure that time and effort are optimised on both sides. An example of preparatory work includes documents such as system requirements including current processes along with "to be" process mapping.
Another key factor in determining the length of a project is what the internal project team looks like, and time commitment and resource availability is key to a successful outcome. There doesn't need to be a full-time team dedicated to the project, although we have found this is good practice. However, the skills and experience of your team will come into play. In our business and when advising clients, we would always advocate putting the best team available onto the NetSuite ERP project.
Ultimately, commitment and project buy-in must come from the top down. Ensuring resources have the space and freedom to immerse themselves into the project will be critical, particularly for larger projects.
4. Should we go with a basic implementation first and then add on the bells and whistles? Or should we do it all in one go?
There isn't a one-size-fits-all solution to ERP implementation and each project is different. Our experience would suggest that a phased implementation is the best way to implement a new NetSuite software. However, if essential processes and requirements must be included as part of Phase 1, then we will ensure that they are in place.
We have seen examples of where ERP projects were sold at a very basic level, but the core requirements of the client have been pushed out to a future phase. In our expert opinion, this is not good practice and while it might make sense from the NetSuite ERP partner's point of view to keep initial implementation costs down, it doesn't solve the problem for the client.
5. What skills do we need in-house to ensure a successful project delivery?
We've touched on this above, but you should really have departmental representation on your project team. Typically, projects are finance-led, so certainly Finance representation would be the minimum requirement. For larger organisations and more complex projects, we commonly see IT, Sales and Operations representation on the project team too. Apart from skills, experience is hugely important. Having people who know and understand your business and your processes very well is a critical success factor.
6. What does project commitment look like?
Typically, we think project commitment is about having that buy-in from the top and understanding that the individual/s on the project team will be given the freedom and space to put their best foot forward to push the project along internally. Project commitment is an investment in time and effort to ensure a successful outcome.
Project ownership is also critical. We always point out at the outset of an ERP project that we are facilitating the project for our client and that it is ultimately their project. Our job is to project manage and make sure that milestones are met, but the projects with the most successful outcomes are the projects where the client has embraced the ownership of the new system.
7. What are the key ingredients for a successful project?
There are a few points we could make that would point to a successful ERP project, including;
Having the right project team in place on both sides

Having a detailed requirements document

Having a realistic project plan in place

Understanding the time commitment involved

Setting realistic expectations from the outset

Great communication between client and partner

Top quality project management on both sides

Understanding the importance of a good set of data – this is often underestimated
8. When is the best time to implement an ERP system?
Often, the best time to start your ERP journey will be dictated by external factors, such as the existing system going "end of life/support" or timing to coincide with other internal projects. However, in all cases, there will usually be a clear cut-off such as a month-end/year-end. If you need any guidance in this regard, a NetSuite ERP partner will help you to determine when you should start implementing new software into your business.
9. Should I go directly to the ERP vendor or should I work with a local partner?
Sometimes, there is a misconception that going directly to the ERP vendor means you will get a higher calibre service or a better price. This isn't necessarily the case though as a local partner will bring additional value-added services such as industry expertise, local knowledge about taxation, reporting and legislation, as well as being on the ground. Never under-estimate the power of the relationship.
In the case of OSSM, we work very closely with our clients as we don't implement hundreds of projects each year. We prefer to focus on the outcome of the project, providing exemplary implementation and support services, and having happy reference clients. Our expert team will become part of your internal team for the duration of the project and we build and develop our working relationship over the long term.
10. It's a big investment for our company, how do we know we've chosen the right ERP partner to implement it?
It can be difficult to know which NetSuite ERP partner you should turn to for assistance, but having reference clients can help you get some comfort from your chosen partner. Reading reviews and testimonials can give you an insight into what it's like to work with a partner.
Here at OSSM, we always insist on carrying out a pre-implementation scoping workshop before taking an order for NetSuite software too. This gives clients the comfort that;
We have fully understood their needs

They are happy working with our team

They will be left with a detailed scoping document, which becomes the basis for the project implementation, should they decide to go ahead. If they decide not to proceed, they can walk away with the document without having invested in the software.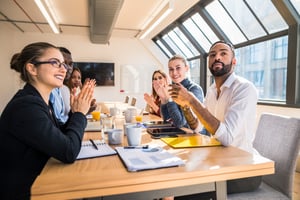 We think it's important that the client is comfortable with both the project plan and our team before deciding to go ahead. From our perspective, we also look to get reassurances during the scoping workshop. We hope to satisfy ourselves that;
We would be happy to take on this project and there is a good alignment between the client's requirements and our proposed solution

We feel confident that the client has the resources in place to deliver this project successfully

There is the commitment and buy-in from the top
On occasion, we have turned down projects in the past where we felt the alignment wasn't there. It's far more important for us to do a good job and have a happy client rather than going for the quick win just to clock up another order.
Starting your ERP journey with a reliable NetSuite ERP partner
If you're looking for a NetSuite ERP partner that can provide you with a comprehensive ERP implementation service, don't hesitate to contact us at OSSM. We work in partnership with businesses to help them improve their operations with a fully integrated suite of NetSuite cloud software solutions and we can help you to overcome any problems you may be facing. We pride ourselves on supporting clients throughout their ERP journey and as a reliable NetSuite ERP partner, we will help to transform your business and even catapult it to the next level. Get in touch with our team at OSSM if you have any unanswered questions about ERP solutions.
If you are planning to upgrade your ERP system but are unsure where to start, why not get in touch with a member of our team?
Click below to organise a no obligation call.
---
Author: Roger Gribbin, Sales Director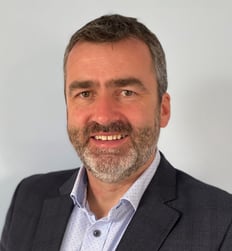 Over the past 25 years Roger has worked in various Technical, Consultative and Project Management roles across a wide range of organisations in various industries throughout Ireland. These roles included assisting customers with their selection projects for ERP, CRM and BI projects, and hands-on implementation across short- and medium-term ERP projects. Roger heads up the Sales Division at OSSM.