Putting the Power in Your Hands
We always look forward to the NetSuite Software Releases, but one of my personal favourite pieces of functionality to be have been introduced was SuiteAnalytics. It's a couple of years old now, but it seems the more you use it, the more you wonder how you managed without it.
Within the NetSuite ERP system, there are numerous reporting options including Saved Searches and the Report Writer. Both great tools to work with to get at your data and report on it in a variety of different ways including KPI's, Reminders, Graphs and Metres, KPI Scorecards, Report Snapshots and more.
When SuiteAnalytics was introduced, I think it was a real game-changer. It's similar to the concept of a Pivot Table, but it lives directly within the NetSuite software. We found that while many customers were using the nice graphs and reports within NetSuite, they were still hanging onto their Pivot Tables to produce multi-dimensional reporting where users could drag and drop the data as required. NetSuite SuiteAnalytics has filled this void. Now, with SuiteAnalytics, there is absolutely no need to use external Pivot Tables.
3 Reasons to start using SuiteAnalytics:
It's Live
We would never go back to using Pivot Tables again. The culture of having spreadsheets and pivot tables has been turned on it's head with NetSuite. There is just no need to maintain external spreadsheets. You don't have to worry about whether the data is accurate or not. With SuiteAnalytics, it's always reading the latest data from within NetSuite.
It's Easy
Sometimes reporting can get a bit tricky and requires a more advanced skillset. Some Saved Searches can fall into this category, depending on what you are looking to achieve. SuiteAnalytics on the other hand is non-technical and so easy to get up and running with.
Get Stuck In
What I particularly love about SuiteAnalytics is that you are not going to "mess up" the data by playing around with it. Have a go. There are some "out of box" workbooks sitting there ready for you to explore. You'll be surprised at how easy they are to use. They are used extensively in our business and they really simplify internal meetings as everybody is looking at the same data in a nice concise view.
I recently met up with my colleagues Brian Doherty (Operations Director) and Naren Sompalli (Solution Consultant) to have a chat about SuiteAnalytics.. Naren also gave us a short demonstration of SuiteAnalytics in action.
If you're using NetSuite and not yet using SuiteAnalytics, I would recommend that you have a look.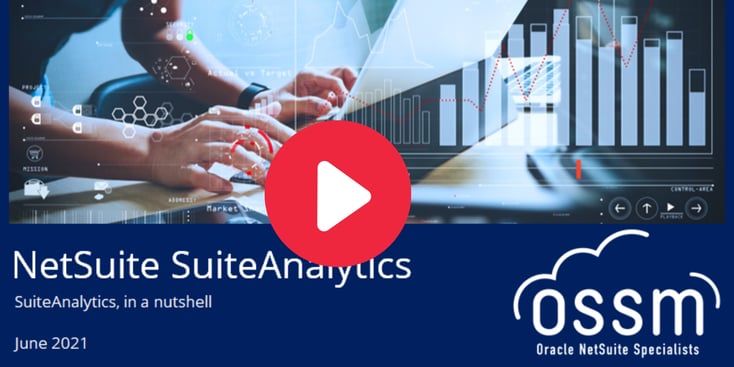 About the Author:
Genna Sherlock is our Marketing Executive and has been working for OSSM since it was established in 2013. Genna has held a number of roles across our Noledge Group including administration and sales.