NetSuite OneWorld - Best Practice Guide to Periods Ends and Reporting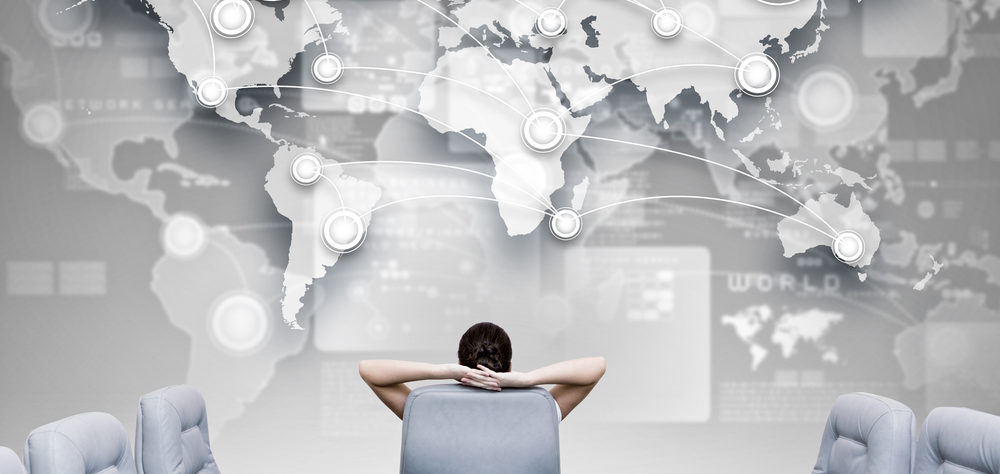 This Help & Advice topic has been created by one of our in-house Solution Consultant's. This article has been written to help existing NetSuite OneWorld users follow best practice when it comes to Period Ends and Reporting. We hope you find this article useful and that you pick up a few tips along the way. We've also included a step-by-step video to help you. So, let's get started.
What is OneWorld?
If you're new to NetSuite or haven't yet considered OneWorld for your business, it might be helpful to explain what OneWorld is all about.
OneWorld is NetSuite's extremely powerful module that enables the management of multiple subsidiaries, business units and legal entities in real-time. Multi-lingual, multi-jurisdiction compliance and multi-currency are all standard features of the system. And the best part is that it delivers real-time global business insights and not just at GL level.
Here's what we'll be covering in this article:
OneWorld Period End Routes:
Creating Intercompany adjustments
Revaluing Open Foreign Currency Balances
Calculating Consolidated Exchange Rates
Eliminating Intercompany Transactions
Reporting:
P&L by Sub
Balance Sheet by Sub
Intercompany Eliminations
Intercompany Reconciliation


OneWorld Period End Routes:


1. Creating Intercompany Adjustments
This option is used in OneWorld if the automated adjustments for Intercompany for Time & Expenses is enabled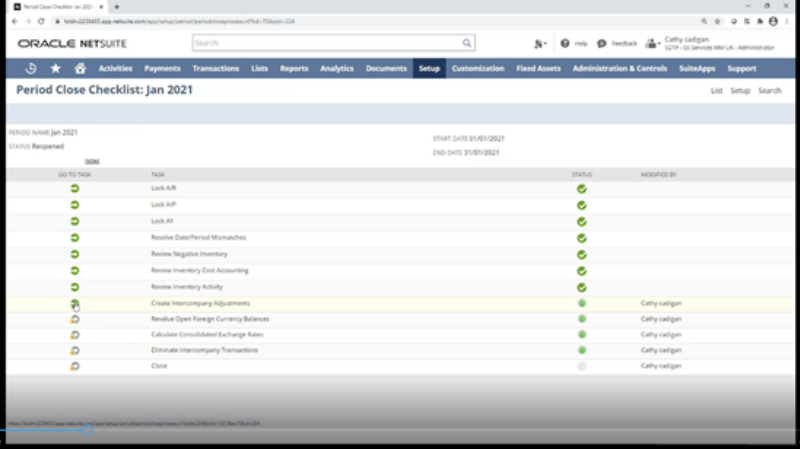 Employees can enter expenses and timesheets across multiple subsidiaries – this is so handy for employees working across global projects.
Create Intercompany Adjustment for Expenses and Time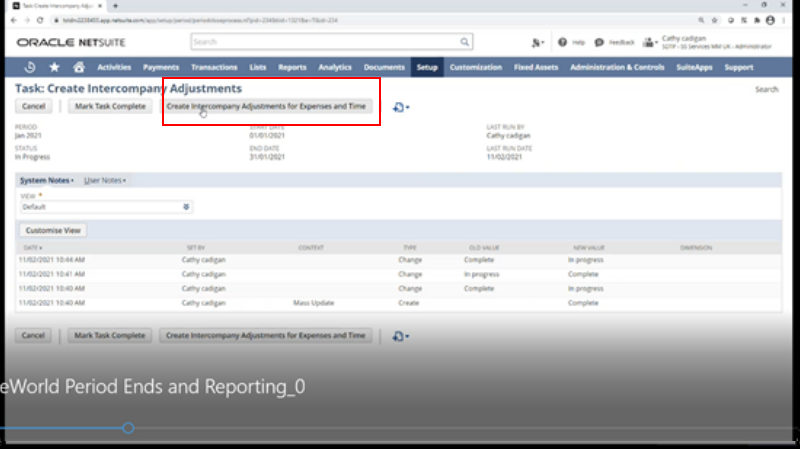 This will give us a list of timesheets or expenses to be posted across your subsidiaries. By clicking submit, this will create an intercompany journal entry.
Go back to Period Close and Mark that Task as Complete.


2. Revalue Option
The process should be run for each subsidiary
A journal will be created for any valuation and it can be run multiple times if adjustments are required. Select Currency Valuation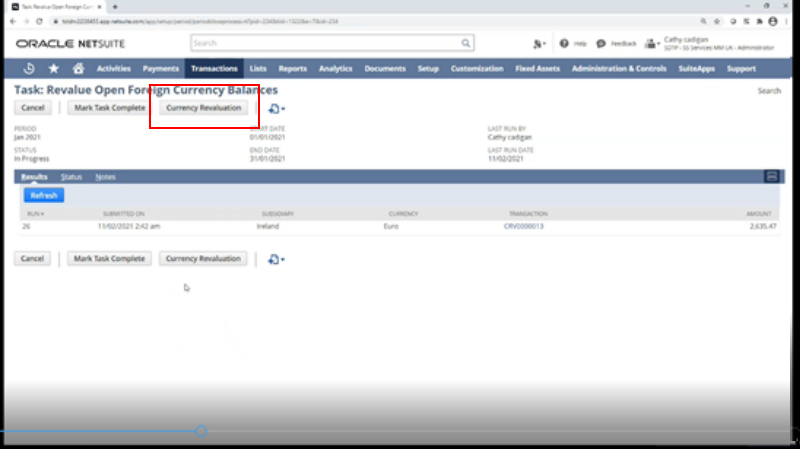 Select the Subsidiary from the drop-down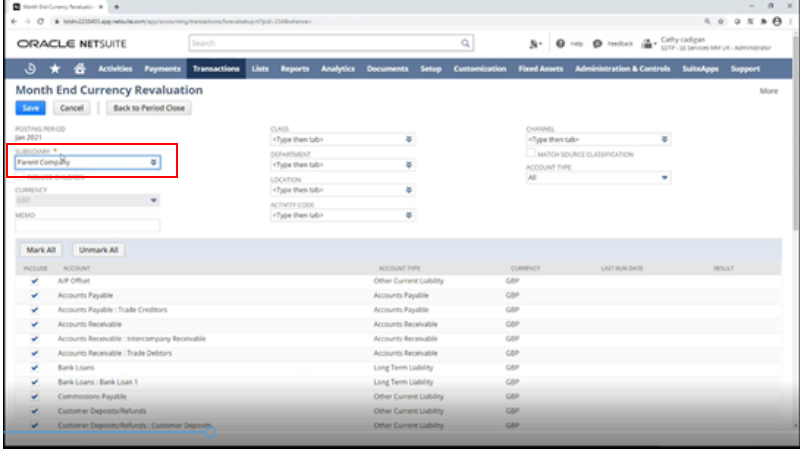 Select Save
Go to Status see the status of this process. Click Refresh to see the status has been completed.
If you go back to the Results tab and click Refresh, you will see your revaluation journal
You should repeat the above steps by selecting your next subsidiary from the drop-down and so on.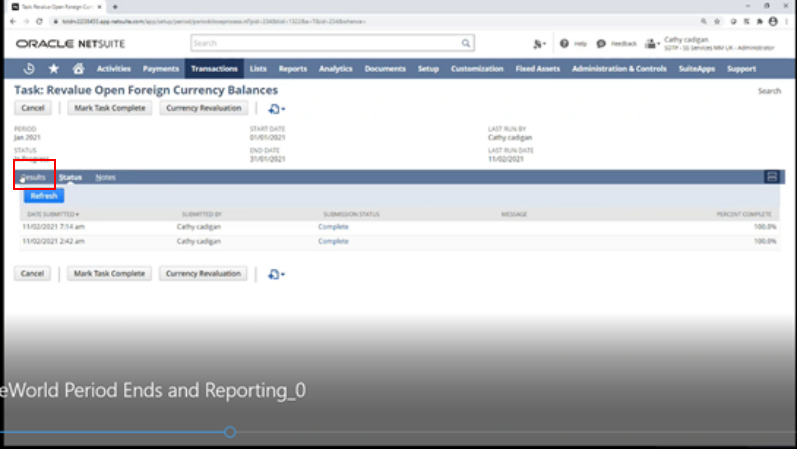 3.Calculate Consolidated Exchange Rates
This option is relevant when the base currency of the subsidiaries is different from the base currency of the parent company
Click on Calculate Consolidated Exchange Rates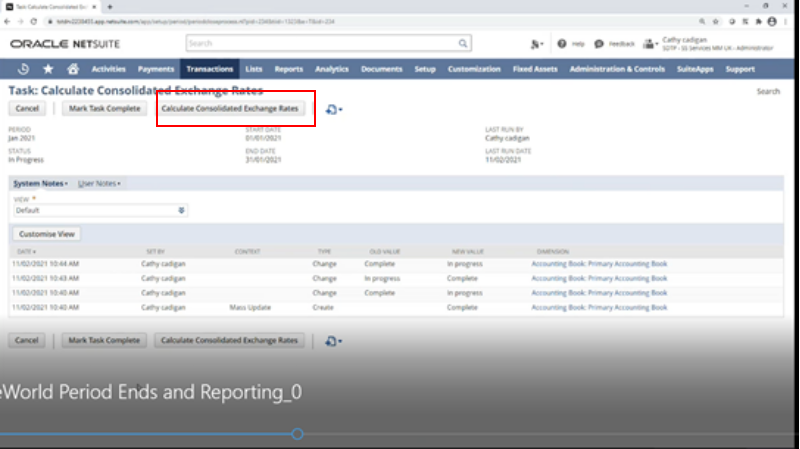 This will display the Exchange rates that will be used upon consolidation
Select Back to Period Close and Mark the Task as Complete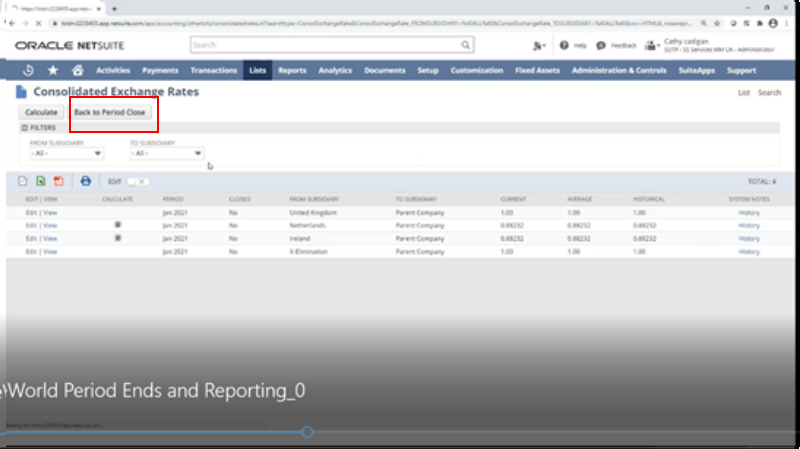 4. Eliminate Intercompany Transactions
This option will only appear on your checklist if you have OneWorld to start with and if you have enabled the option to Eliminate Intercompany Transactions.
Tip: This option can be run multiple times – handy to know as you may need to re-run it if you discover any issues.
Click on Run Intercompany Elimination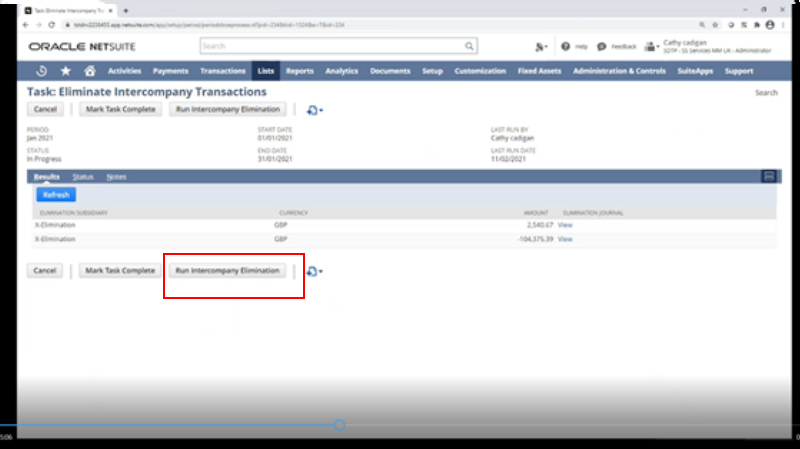 Click Save, go to the status to see status (use the Refresh button).
Click on the Results Tab, you will see the Intercompany Eliminations. You can then mark this task as complete.
Reporting
The really nice thing about NetSuite OneWorld is that once you have your subsidiaries set up, the reporting should just flow out. NetSuite is a Single Source of data for all subsidiaries. This means transactions are instantly consolidated without any need to perform a "consolidation routine". It updates as it happens.
If you don't already have your Subsidiary Navigator (graphical view of your group structure) set up on your home dashboard (subject to your role/permissions), then this would be a great place to start.
The idea is that the data on your dashboard will instantly change depending on the subsidiary you have selected from your Subsidiary Navigator. If you select Ireland for example, all of the data in your dashboard will change to reflect the Irish Data and of course the currency will change to €. If you have your subsidiaries organised into different global regions for example EMEA, APAC etc, you can select this level and you will instantly see the underlying data for this region. You can also select the Head Office level to view the overall business.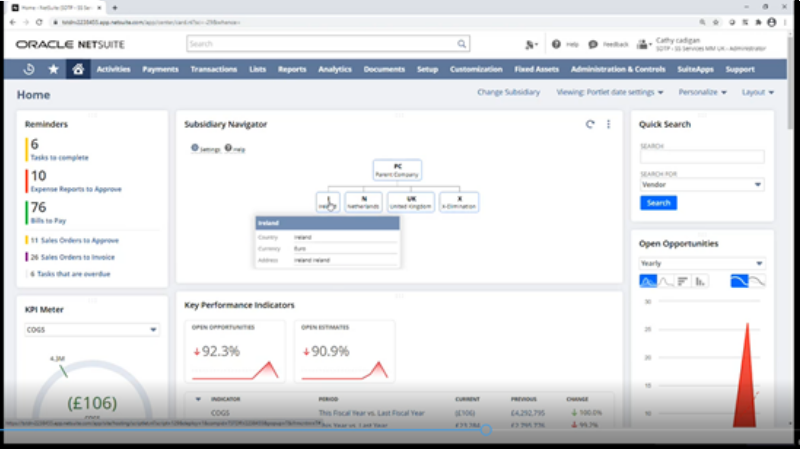 1. Balance Sheet
Go to Reports -> Financials -> Balance Sheet
Here, you can change subsidiary context to see just one subsidiary.
You can also view the Parent Company in the subsidiary context and then select the subsidiaries from the Column drop-down field. This will give you a real-time view of your Balance Sheet across all subsidiaries in tabular format,
You will see the Elimination Subsidiary listed also
2.Profit & Loss
Go to Reports -> Financials -> Profit & Loss
This will be very similar to the Balance Sheet and you can again select to view the data using the Subsidiary Context and the various columns.
It is worth noting also that the ability to view reports in this fashion and the ability to consolidate data happens across the system and not just at GL level.
Tip:
Reports -> Vendors/Payables -> AP Aging Summary
You can see what you owe suppliers/vendors across all Subsidiaries or just for one Vendor
3. Intercompany Reconciliation
Go to Reports -> Financials -> Intercompany Reconciliation
This report is useful for identifying and un-matched or incorrectly matched Intercompany transactions
If something needs to be rectified, you can go directly into the transaction from this report and adjust it from here and then just run the report again.
4. Intercompany Elimination
This report provides an audit trail of any inter-company eliminations.
Watch our Step by Step Video here:
---
About the author: Brian Doherty
Brian works in our NetSuite Project Management and Consultancy Teams and brings over twenty four years' experience successfully leading ERP projects across the Distribution and Services sectors.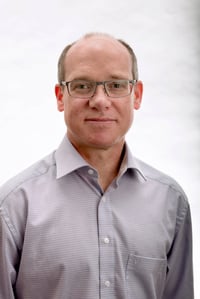 Related Content:
NetSuite OneWorld Intercompany Transactions