But it is crucial to have the right tools for the job
In today's economic environment, where global business is transacted across different time zones at a rapid pace 24/7, speed in decision-making is critical.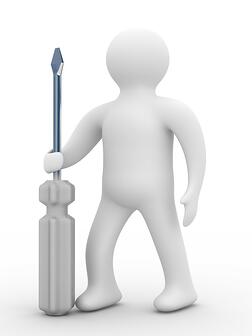 Organisations that are able to move dynamically based on real time information and captialise on market opportunities or avoid potential risks are best positioned to win in their respective marketplaces.
Some organisations have this nailed down and can move and navigate as required. Others though continue to be slowed by legacy systems hampering their growth. It is very much the case that your IT systems can make the difference in how you react and the pace at which you can react.
A recent study by The Hackett Group stated, many company with legacy technology are " flying blind" - not exactly the ideal way to run a modern business.
Another factor delaying the goal to modernise the business is the unfamiliarity among many companies as to the technology needed to operate a modern business. Technology has changed how we do things across the business - not just in the IT department. Sales (CRM systems), Finance (ERP systems), Customer Service (CRM systems), Marketing (Marketing Tools), Supply Chain Management (automation), Manufacturing (automation) Retail (customer engagement) have all been transformed taking advantage of Cloud Techologies, Social Media, E-Commerce and Mobility.
According to a survey of board of directors by McKinsey & Company, more than half of all boards have either a single technology-related discussion a year or none at all.
So in order for modernisation to happen, somebody must step up to the plate. According to a Gartner and Financial Executives Research Foundation report, which indicated that the CFO is "increasingly becoming the top techology investment decision maker in many organisations".
Today's CFO has skills that extend beyond the finance of the organisation and is very much in tune with the need to bring about modernisation and change.
Click on the image below to download our 5 Tips to help CFO's modernise their business.