Learn more about Field Service Management for NetSuite with the NextService SuiteApp Buyers Guide.
If you are an existing NetSuite customer and are considering NextService for your Field Service Management business, download this Buyers Guide where we go through all of the areas you need to consider before you decide on the right solution for you.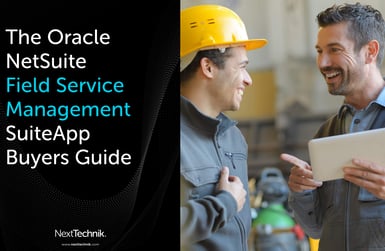 Benefits of NextService:
Single Platform, fully integrated with NetSuite ERP
Eliminate Paper and Spreadsheets
Drag and Drop Scheduler
Consume Consumables and Inventory from the Field
Schedule Crews or Individuals
Checklists with Mandatory Steps for Compliance
Extensive Reporting and Analytics
Plus lots more....
Just fill out your details opposite to get your downloadable SuiteApp Buyers Guide